Network events
Fuyubi Nakamura | DRRN Research Seminar
March 1, 2023, 3:30 pm to 5:00 pm
Room 121 | Liu Institute for Global Issues
6476 NW Marine Drive
Title:
The Regeneration of Nature and Culture in the Aftermath of the Great East Japan Earthquake
Speaker:
Network member Fuyubi Nakamura
Assistant Professor, Department of Asian Studies | Curator, Museum of Anthropology
UBC-Vancouver
Abstract:
March 11, 2023 marks the twelfth anniversary of the Great East Japan Earthquake, also known as 3.11. This presentation reflects on the past twelve years of Nakamura's engagement with people and landscape affected by this triple disaster since her initial involvement the recovery process in 2011.
Entitled A Future for Memory: Art and Life after the Great East Japan Earthquake, the exhibition Nakamura curated at the Museum of Anthropology at UBC was held during the tenth anniversary year in 2021, and derived from her ongoing research. The works and photographs in the exhibition trigger memories, emotions, and imagination. They serve as more than just objects of memory by reminding us to not forget the disaster or the continuous efforts of many survivors to rebuild their lives. Her focus is thus not on the disaster itself, but more on the regeneration of nature and culture as well as new connections that have been developed because of the disaster. She explores how we can create a future for memory by considering what has been preserved, or what has been created, following 3.11.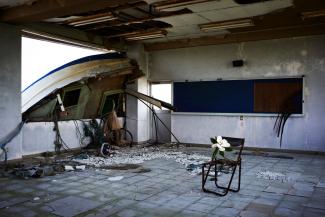 Image: Atsunobu Katagiri, Sacrifice series (2013–2014)
Flower: Southern magnolia; Location: Ukedo, Naime Town.
MOA collection: 3542/2. Courtesy of the artist and MOA.
When?
3:30 - 5:00 PM | Wednesday, March 1
Where?
In person:
Room 121
Liu Institute for Global Issues
6476 NW Marine Drive, Vancouver
On Zoom:
See link below
The idea for this year's seminar series is to encourage DRRN members to share their work and how it relates to the network. In this spirit, members will consider how to share their work accessibly to a transdisciplinary audience with a shared interest in disaster research. This will be a great chance to learn what other members are up to, while communicating our very different forms of knowledge to a diverse academic audience.
The seminars will be 1-1.5 hours, with talks lasting ~40 minutes, leaving plenty of time for Q & A and discussion. While we encourage in-person attendance as conditions allow, we will be holding the seminars in a hybrid format, in order to provide for virtual participation, as well.
---